Backlink Removal & Link Detox Services
Link building is part of a complete SEO solution. Start by removing the bad ones.
Link cleanup is tedious and time-consuming. So let us do it for you!
Four Steps to Help Your Client Recover from Penguin's Wrath!
Several years after the update and webmasters are still learning the lessons of Penguin. Here are the basic steps we'll go through to get you back in Google's good graces.
1. We use tools from Majestic and Ahrefs as well as Search Console to discover all the backlinks pointed to your sights.
2. Using Link Detox from LinkResearchTools, we analyze each link followed by manually visiting each site to verify if it's spammy.
3. With the help of rmoov.com, we find contact information for each domain and submit link removal requests to their webmasters.
4. We disavow any remaining bad links through Search Console and submit reconsideration requests if necessary.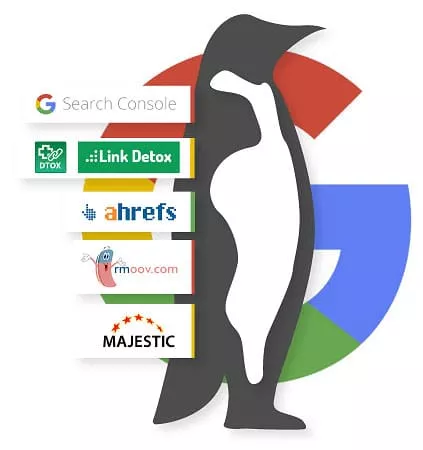 No Two Local Businesses Are Alike
Our services include a team of highly-trained experts for you and your agency. Unlike other white label companies, our software and services give you a scalable methodology combined with the SEO fulfilment service, tools and white label dashboard to help you drive more traffic to your clients, so you can sell more packages than ever.
Manage The Risk Of Bad Links To Your Sites
As of September 2016, Penguin is now a part of the Google algorithm crawling the web regularly.

This means that constantly monitoring your clients' links while simultaneously link building on high authority sites with natural anchor text is as important as ever.

With our Link Detox packages, your clients will have a powerful strategy against Google Penguin penalties
Risk level analysis of each link

Removal of any toxic backlinks

Anchor text extraction

Ensure link diversity
Backlink Cleanup is One Part of a Complete SEO Strategy
If you're looking for a well-rounded SEO strategy, backlink cleanup will be a great addition to you. Here are a few other products to consider.
Frequently Asked Questions
I Want To Offer A Complete SEO Solution!